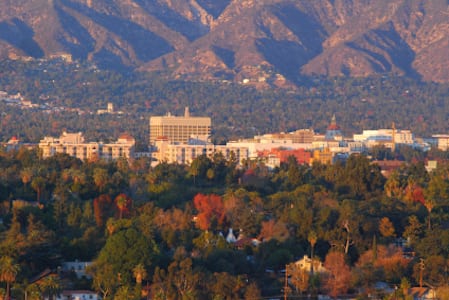 A group of 27 settlers met on a knoll beside the Arroyo Seco to picnic and subdivide their 4,000 acres of land, launching a new village under the California sunshine. The land, purchased for $25,000 had been platted in 15-acre parcels. The following year, seeking a native American name with a pleasant sound, the newcomers named their colony "Pasadena," from a Chippewa word suggesting "Crown of the Valley."
Pasadena is situated on a broad alluvial slope below the San Gabriel Mountains. From its earliest years, the town of Pasadena has been richly endowed by nature. The abundant sunshine, dramatic mountains, and sparkling streams invited settlers to a near-paradise.
Pasadena is a sophisticated city but still fringed with large natural areas: the Arroyo Seco on the west, Eaton Canyon on the east, and the San Gabriel Mountains to the north. Parks and native plant gardens preserve gems of nature within the city. A broad canopy of street trees now gives Pasadena a green and shady aspect. Today the city is nearly built out and has about 146,000 residents. With annexations over the years, its area has grown to about 22 square miles.
Today's Pasadena offers a host of lodging options With 2,500 guestrooms. Pasadena is home to five major hotels, four of which are within walking distance of the Pasadena Convention Center. The city also has 11 quaint motels and inns. The staff at the Pasadena Convention & Visitors Bureau can assist you in selecting and booking the right hotel for your meeting or event. All of Pasadena Hotels evoke the splendor of days gone by. Today, these restored and elegant resort hotels feature grand getaways to spoil, pamper and indulge guests in luxurious surroundings.
Latest posts by Dan Winther
(see all)