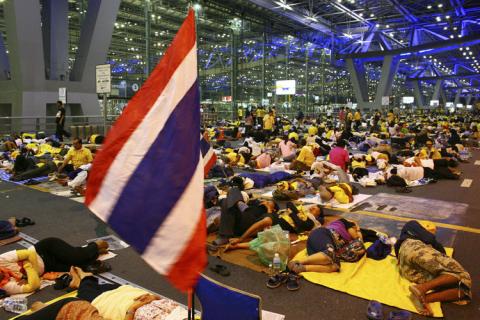 The siege imposed by the People's Alliance for Democracy (PAD) ( (Thai: พันธมิตรประชาชนเพื่อประชาธิปไตย) also called the National Liberation Alliance – กลุ่มพันธมิตรกู้ชาติ, Thai Patriots Network or the Yellow Shirts – เสื้อเหลือง – was originally a coalition of protesters against Thaksin Shinawatra, the former Prime Minister of Thailand.[1] Its leaders include media-mogul Sondhi Limthongkul and Major General Chamlong Srimuang. The PAD was a chief player in the Thailand political crisis of 2005 to 2006, the 2008 crisis, and the Cambodian–Thai border stand-off. The PAD consists mainly of royalist upper and middle-class Bangkokians and Southerners, supported by some factions of the Thai Army, some leaders of Democrat Party, and members of state-enterprise labor unions.) demonstrators on Bangkok's Suvarnabhumi airport since Tuesday night caused at least 50 million Thai Baht of damage, excluding airport and landing fees.
So far, Thai AirAsia cancelled 17 domestic flights and 11 international flights from 6am to 2pm. Passengers can call Thai AirAsia's hotline service at 02-515-9999.
Bangkok Airways called off 24 domestic and international flights before afternoon. Passengers can contact the airline at 02-265-8777 or 1771.
Thai Airways International announced that its flights heading to Bangkok Airport Suvarnabhumi will be diverted to Don Mueang airport or U-Tapao airport. People can call the airline's call center at 02-356-1111.
The PAD was formed to lead demonstrations against the government of Thaksin Shinawatra, whom they accused of being against the monarchy. Two days after a military junta's 2006 military coup overthrew Thaksin's interim government (between elections), the PAD voluntarily dissolved after announcing its goals had been accomplished. The PAD re-established itself after Thaksin-affiliated parties, led by Samak Sundaravej's People's Power Party (PPP), won a plurality in the 2007 general election. In May 2008, PAD again began street protests and in August seized Government House to pressure Samak's coalition government to resign. PAD supporters also seized airports in Phuket, Krabi, and Hat Yai and blocked major roads and highways. Sympathetic state-enterprise labour unions assisted by stopping train services across the Kingdom and threatening to shut off electricity and water services to non-PAD supporters.
Latest posts by Dan Winther
(see all)