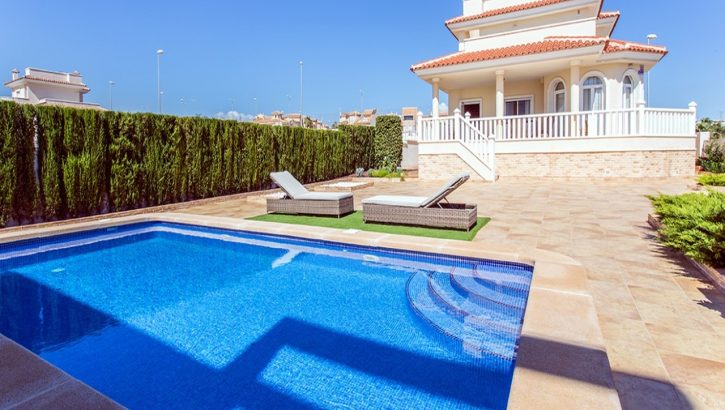 Many Norwegians hunt now for rental in countries such as Spain and the United States. Where the financial crisis has pushed prices sharply down.
A study by a Forecast Center shows that 40,000 Norwegians have concrete plans to buy a holiday home abroad. There are twice as many as in 2005.
There is ever-increasing demand now after the financial crisis, says CEO Agnar D. Carlsen in Norwegian brokerage AS Bergensavisen (BA).
Spain on Top
Almost a quarter of those who want to buy property abroad choose Spain. The country is still by far the most popular when it comes to holiday abroad.
More than every third house we sell now is in Spain. People want affordable housing there because the big price decline after the financial crisis, "says Carlsen.
The price decline in some areas in Spain is 25-30 percent from the peak year of 2007. But price declines are not evenly distributed.
In areas where there has been a lot of development, serious actors, and poor quality, prices have gone down to less than half. But developers keep the well-established and popular areas to themselves, " says real estate adviser Anne Marie Jensen of Global Property, she adds:
But you can certainly do a lot of bargains in Spain.
She also mentions Turkey as a country where one gets a lot of money now.
We see that more and more people open their eyes to Turkey as an affordable alternative to Spain.
The U.S. has arrived
In the U.S., with Orlando as the main market, prices have fallen by around 40 percent from 2007.
Both Jensen and Carlsen believe it is an exciting area with great opportunities for rent because of the proximity to a number of amusement parks.
According to Sverre Balterskard in Property Abroad, however, buyers are more cautious now than before the financial crisis.
Interest in a rental is just as great, but people will not spend as much money on it now as before, and they take fewer chances. (ANB)
Do your homework
The ability to make great purchases abroad is greater now than ever, but do not think that it's easy to earn lots of money.
The warning comes from Bjørn-Erik Øye in Forecasting Center. He is included in the Norwegian market for second homes abroad.
Of the 40,000 who plan to buy holiday homes abroad, it is only around 2,000 annually as actually doing it. On average, people think they will use 1.6 million.
It is incorrect to say that homes in Spain are very cheap now. They are however correct priced than in the peak year, "says Eye. He believes the strong Norwegian krone, combined with high purchasing power and falling prices, making the possibility of a coup good – so long as the motivation is to get a rental.
The proportion who want to buy property abroad as investment rose from zero percent in the 1990s to a quarter now. But the risk is great for those who want to buy to make money, according to the eye.
Make a thorough examination of the area, seller, developer, and laws of the country, he advises buyers
Checklist
Never pay money to anyone unless you have a guarantee for the amount through a broker, lawyer, or notary.
Double Check-regulation provisions in the area.
What would you have thought of if you should buy property in Norway?
It's a good idea to rent first to see how to thrive in the area.
Use a Norwegian real estate agent. Remember that agents selling on behalf of the developer does not have the same responsibilities as a Realtor!
Make sure that the seller of the property has title to the property.
Request documentation and check the seller's references. At the homes under construction, it is important to check the contractor.
Familiarize yourself with laws and regulations regarding the purchase of a real estate in the country you are considering buying in.
Think through the tax and inheritance consequences of buying property abroad.
Do not sign a contract if you do not understand.
(Sources: Norwegian brokerage AS, the Norwegian Consumer Council, the Financial Supervisory Authority)
Decrease in prices from the peak year 2007
Spain: 25-60 percent
Turkey: approx. 40 percent
USA: approx. 40 percent
Crete / Greece / Cyprus: approx. 30 percent
France / Italy: stable prices
(Source: Agnar D. Carlsen, Norwegian brokerage AS)
Most popular
Spain
Sweden
Turkey
France
Denmark
Thailand
Brazil
Bulgaria
Greece
United Kingdom
Where they will buy
Spain: 23 percent (27 in 2009).
Nordic countries: 22 percent (28 in 2009).
Italy: 5 percent (3 in 2009).
France: 3 percent (7 in 2009).
Other: 25 percent (23 in 2009).
(Source: Forecasting Centre)
Owners Abroad
The majority are aged 40 – 45 years (37 percent) and 55-64 years (32 percent).
49 percent of the owners live in Oslo, Østfold, and Akershus.
11 percent reside in western Norway.
Income may be considered relatively high.
50 percent have a household income of between 400,000 to 800,000 crowns.
25 percent over £ 800,000 in household income.
(Source: DnBNor Property and Forecasting Centre)
Latest posts by Dan Winther
(see all)