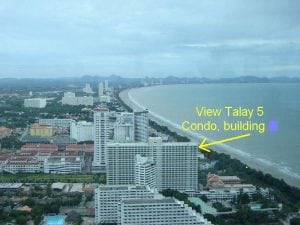 PATTAYA — View Talay Condominium in Pattaya is again in news for all the wrong reasons. This time a Swedish man was found dead inside his condominium near Jomtien beach in the early hours of Wednesday morning.
The 62-year-old Swede was found dead squatting in his bathroom on the 10th floor of the View Talay Condominium with his head in a bin and a golf bag over his neck.
That's how he was found by Pattaya police officer Temtrong Rodsiri, who arrived on the scene at about 12:30am.
"I can not live without sleeping any longer!" read a note purportedly left behind and addressed to his friends and family. "I love Thailand and Thai people but have no power anymore."
Viking Nomads is withholding the deceased's name until his family can be notified.
Bar owner Weawmanee Luangkrathok, 26, said she noticed the deceased, who drank there every evening, absent Tuesday night. She said that she asked the condo's security guard to go up to his room and enter it with a spare key.
The man was believed to have been dead for approximately five to six hours. Police said they have not made a determination on the cause of death and have taken the body for postmortem.
Last month a Norwegian man Dahl Frode, 43, was found on the grounds of the View Talay 3 condominium on Pratamnak Soi 6 May 29. A kitchen knife was found near the body and drug paraphernalia in his pockets. Norwegian man died after allegedly stabbing a bar worker and then leaping to his death from the 10th floor.
Police saw the entire thing as a mystery, with many possible real stories for what actually happened and whether the Norwegian in fact jumped. The investigation is continuing Norwegian man's death case.
This year in February View Talay Condominium was again in news in another case involving a 65 year old Dane whose 35 year old Thai wife jumped from the 15th floor of the same fateful condominium.
Latest posts by Dan Winther
(see all)