Come 1st June and paper tickets will gone forever! Airlines all over the world will start issuing E-Tickets only after midnight of 31st May 2008. Well, there is no need to look confused or panic when your travel agent will hand over a piece of printed paper with traveling dates etc printed on it. It is your ticket indeed from right now.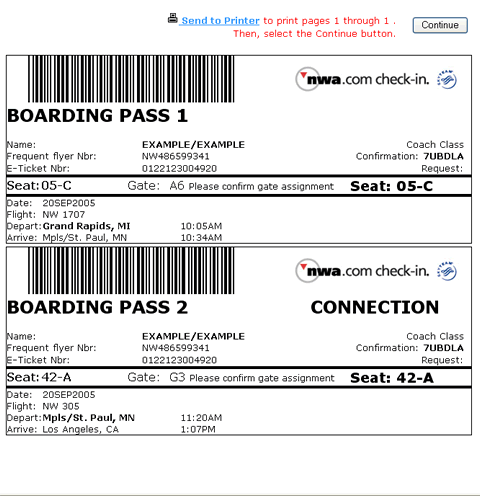 Lost it???????? No problems, it can't be lost! You can print it yourself even on the airport just before your departure. Change your seating preferences, Order for meal of your choice and print your boarding pass and check-in from your bedroom! Yes, these are the few attractions of E-Ticketing. As for my fellow Travel Agents it is win win situation all the way. Let me show you some figures which can give you an overview of the tremendous cost cut and that will happen to travel agencies all over the world.
Electronic Ticketing benefits versus Paper Tickets – FOR Travel Agencies
Paper Ticket (PT)
Electronic Ticket (ET)
PT – Need for secure premises and provision of a safe, meeting minimum standards.
ET – Could set up as an Electronic Ticket only travel agency thereby removing the minimum requirement for a safe to store paper tickets and thus making accreditation easier.
PT – Deliver paper tickets on time to clients.
ET – Tickets can be issued up to departure time. No need to worry about providing the paper ticket, although there remains a need to provide mandatory notices to the passenger by electronic or other means.
PT – Need for knowledgeable staff to set up Prepaid Ticket Advices and check on ticket process status.
ET – No need to waste valuable time setting up Prepaid Ticket Advices as the tickets can be issued directly.
PT – Couriers or messengers may be needed to deliver tickets to customers thereby incurring additional costs.
ET – Not required any more.
PT – Changes after departure require a close relationship with the airline and the passenger who then must spend time contacting a ticket office to have a ticket changed.
ET – As the coupons are held electronically, the travel agent can perform the changes, exchange or reissue the ticket and make additional collections without requiring the passenger to waste valuable time at an airline's office, resulting in added value services.
PT – Need for a storage facility for paper agent coupons.
ET – If audit coupons are required they may be stored electronically.
PT – Hardware, such as printers (ATB, OPTAT), needs to be maintained.
ET – Only a plain paper printer is required to print the itinerary/receipt and ticket notices.
PT – Ensure adequate stock in the office.
ET – Not required.
PT – Paper tickets can jam in the printer.
ET – Tickets are issued electronically.
PT – Customer may need to visit the travel agency for changes to their tickets
ET – Customer service is enhanced, productivity is increased and flexibility is added as all transactions can be performed without the customer needing to be present.
Latest posts by Dan Winther
(see all)