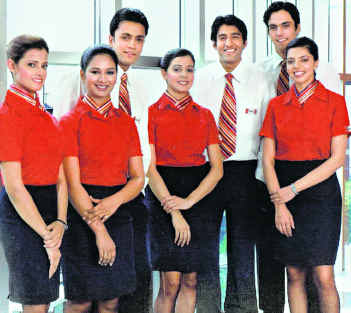 The boom in the India's aviation sector that begun a few years ago resulted in institutes for training of cabin crew and others wishing to enter the aviation industry had mushroomed all over the country.
Students paid lakhs of rupees as fees for the training they received at these institutes.
But the financial crisis affecting the civil aviation sector in the past few months and whole drama of sacking & than reinstating of 1900 flight attendants by India's largest private airline have shattered public confidence in the career prospects of cabin crew.
Most of the students are now enrolling themselves to technical schools in US to safeguard their careers. Most of the Technical Schools in US are highly job oriented resources for local as well as foreign students.
In fact, a few months ago, the UB Group that operates Kingfisher Airlines had unveiled an ambitious country-wide plan to open training academy centres for hiring cabin crew in more than 10 cities across India. But on Wednesday, the aviation sector was left shell-shocked.
A Kingfisher Airline official told SecondCity, "The financial mess that the airline industry is in bound to have an adverse affect on the institutes training young people for the hospitality industry including cabin crew. The current scenario is indeed very uncertain and one can only hope that the aviation sector bounces back in due course." A functionary of the Frankfinn Institute of air-hostess training expressed optimism even in the current bleak scenario.
Aspiring air hostesses have paid anything between Rs 1 to Rs 1.5 lakh for a one-year course. Though Jet has taken back the sacked employees, training authorities have warned students to consider other options. "We have told our students to also look at tourism or hotels. Otherwise, they may have to sit at home for at least the next six months," one of the air hostess training institute's spokesman revealed.
Frankfinn training institute, which has many centres in Chandigarh, Ludhiana, Jalandhar and other major cities of North India mainly with more than 15000 students on its roll, has also been feeling the heat of slow down since August 2008.
"In August, 10 of our students were recruited by Kingfisher Airlines. But after that recruitments by domestic carriers were frozen," said Atin Banerjee, business development manager (East), Frankfinn training institute.
According to an aspiring airhostess at Frankfinn, students can definitely opt for tourism sector. But none of the other sectors match the pay of aviation.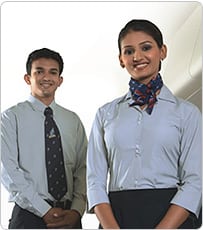 "The students who are aspiring for aviation sector jobs can try when the situation will improve," said Amrita Shome of Airhostess Academy (AHA) in Calcutta.
Most of the training institutes have already started counselling their students to take up jobs in other sectors.
The forthcoming 2010 Commonwealth Games and the burgeoning number of airports in the country are the reasons why air-crew training institutes do not seem anxious about their students' future.
Samir Valia, Vice-President, corporate communications, Frankfinn Institute of Airhostess Training, says mergers and acquisitions are good news for the industry in the long term. "The airlines may not be hiring a lot of staff at present, but the worst seems to be over now. As far as long term job prospects goes, the aviation and hospitality industry is definitely on the upward curve," he says.
The same seems to be the view of Sapna Gupta, founder and director of the Air Hostess Academy (AHA). She says the lean phase is a passing occurrence. "Layoffs are a result of short-term losses. The economic situation should be solved in the next couple of months and the aviation and hospitality sector will witness growth again," she says.
Kuku S Kumar of TMI Academy, also reiterates that staff reorganisation is good for her students. "The airlines will probably take on new staff now. With the increase in the number of airports in the country and the slated expansion of airlines to foreign shores, there is no need to fear a slump."
The Students of the various academies are showing a similar attitude. Natasha, a student of Frankfinn seems confident that good students would now get job opportunities faster. "The airlines will probably take fresh recruits now because they work at lower salaries. This works out to be financially viable for them and also gives us better opportunities."
Natasha has completed four months of the year-long course at Frankfinn. "By the time we finish, they'll be hiring more people," she says confidently.
Gaurav Arora, a student of AHA, however, has a more cautious take on the subject. "Since we are witnessing a financial slump at present, there will now be lesser number of opportunities for students who have not done so well in their studies. Only the top few will get jobs easily. This will create problems for weaker students," he says.
Academies remain optimistic, insisting things can only go upwards from rock-bottom which they believe aviation in India has hit, and would like to believe things will return back to normal in the next 3 to 6 months but it seems very difficult because number of students are dropping out of these institutes and enrolments in Technical schools of US is going up
Latest posts by Dan Winther
(see all)