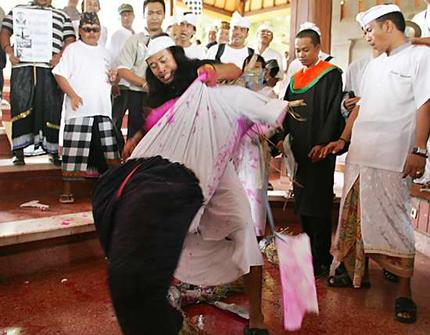 Authorities in Bali are taking the latest Australian travel advisories on Indonesia in their stride.
The Australian government has warned its citizens against travel to Indonesia, citing strong intelligence that there will be reprisal attacks against foreigners due to the imminent executions of three convicted Bali bombers.
Bali governor Made Mangku Pastika said he was unconcerned by the latest warnings. "I think Australians understand conditions in Bali," he said.
"We and our defense forces will do our best to safeguard Bali."
Bali Tourism Board chairman Ngurah Wijaya said Australians tended to ignore their government's advisory against traveling to Bali.
"The proof lies in the fact that the number of Australian tourists this year is still high," he said.
Official figures from the Bali Immigration Office show that in the year to October 25, the number of Australian visitors to Bali in 2008 was 226,779 – a 55.8% increase on 2007 figures for a similar period.
Airline capacity between Australia and Bali continues to grow. Jetstar launched services from Perth to Denpasar this week and Virgin's Pacific Blue will make its Bali debut later in the year.
Security was tight on the Indonesian island of Bali today ahead of the expected execution of the three Bali bombers in neighboring Java. Army movements of trucks and soldiers were taking place at key sites.
Small teams of armed soldiers were seen in close proximity to resort hotels on the island.
In Jakarta there is fear of civil disorder by hard-line supporters of the men who murdered 202 people, including 88 Australians, in Bali in 2002.
Yesterday, text messages circulated around Jakarta warning of terrorist attacks on shopping malls and places where Westerners gather. Police dismissed the messages as hoaxes, but they reflect concern being generated by the bombers and their followers.
The three men could be shot any time from Saturday, with informed sources saying that was the most likely day.
Police sources said the plan, which is still being finalised, was for the bombers to be executed by firing squad at three different sites.
Latest posts by Dan Winther
(see all)