Embarrassing news is coming from India's most beautiful city, Chandigarh (a modern city of India designed by french architect Le Corbusier in mid 50s) where Six unidentified youths allegedly gangraped a 20-year-old German girl after kidnapping her from outside Taj Hotel in the heart of the city on the World Tourism Day on Saturday night. Just few days back city has acquired it's own Tourist Police.
The girl was picked up from the parking site of the hotel Taj by around six youths and gangraped by taking her to different places, the girl alleged in her complaint to the Chandigarh Police.
The victim alleged she, along with her another German girlfriend, came to the city on September 23 in connection with the marriage of the friend with a city-based boy.
She told the police that on Saturday night she along with her friend and her husband went to hotel Taj for having coffee at hotel's 24 hour Coffee Shop. As smoking is banned in all the hotels and restaurants in city so she stepped out in hotel's parking lot for a smoke about 2:00 am. Aleast six youths waiting in a Scorpio jeep pulled her inside the vehicle and raped her at different places in the city, the girl alleged.
Meanwhile, the vehicle registration number given by the alleged victim to the police turned out to be that of an Auto Rickshaw (cheap public transport vehicle with three tires), police said.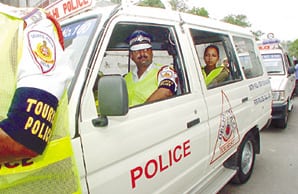 According to the local police, the girl was being medically examined at a hospital. However the medical report which came out during the filing of this report ruled out rape but confirmed the charges of attempt to outrage her modesty.
A team of doctors at the Government Multi-specialty Hospital at Sector 16 has reported bruises and human bite marks on German girl's body but found no evidence of her being sexually assaulted, according to official sources. Meanwhile, the German embassy has got in touch with the Chandigarh police to find out the details of the case and status of the investigations.
The shocking incident has become a major embarrassment for the Chandigarh administration considering it happened hours after the authorities celebrated the World Tourism Day with much fan fare and launched the tourism police to make the city safe for foreign tourists.
Latest posts by Dan Winther
(see all)