The collapse of XL Leisure Group, Britain's third-biggest holiday company, has hit more than 300,000 customers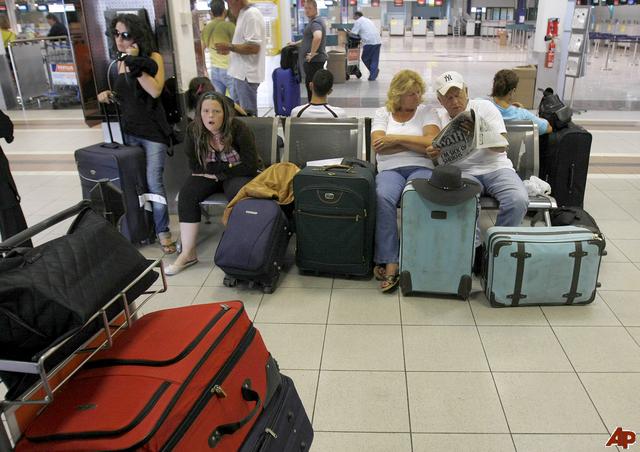 On Thursday night (Fri 12 Sep 2008 11.34 BST) XL Airways flight JN1121 pushed back from the terminal at Sanford International, the Orlando airport that is the gateway to Florida for thousands of British holidaymakers every year. And that was the beginning of the end of XL Leisure Group & an all-inclusive holiday shattered dream.
For the 266 passengers on board, it was the end of all-inclusive holidays – two weeks spent basking on the beach or squealing with delight on the rides at Disneyland.
A massive airlift was underway to bring some of the 85,000 tourists who were caught out by the shut-down of Britain's third-largest tour operator. Those who opted for Tour Operators like Directline Holidays were feeling safe as their cheap holidays as promised to them were cheap indeed as ever. Many holidaymakers came to know about the truth behind true discount holidays.
This morning, passengers flew into Gatwick Airport on a specially-chartered Monarch Airlines flight from Sharm El Sheikh in Egypt and spoke of their joy at getting home. Alison Hill, 37, said she was left in tears as she worried she would not be able to find a flight back to the UK.
The Stranded Passengers & Their Ordeals
Ms Hill, from Redditch, Worcestershire, who spent 10 days in the resort with her two-year-old son, Samuel, said she found out that XL had gone into administration as she lay in bed in her hotel room watching the news.
She said: "No one actually told me, I had to find it out for myself. I spent the whole day in tears in the reception with a very unhappy two-year-old, wondering if I was ever going to get home. A woman staying in the same hotel as me went to the airport and she found out from Thomson about this flight.
"We were meant to leave at 11 pm last night and ended up getting this flight at 3.30 am this morning, so you could say we were one of the lucky ones. There was another flight that was meant to go to Luton yesterday afternoon before ours, and they are still there."
Ms Hill, a lawyer, added: "We had a fantastic holiday but the last day was ruined, which left a bitter taste in the mouth. It was all the worse as it was just the two of us, I thought I was going to be stranded in a foreign country with a two-year-old."
Friends Kirsty Grant and Kelly Thompson, who were also on the Monarch flight, said they spent the last day of their holiday in a "mad panic." Ms Grant, 20, said: "My mum sent me a text yesterday morning telling me I might have trouble getting home. We immediately went to find our rep but she couldn't tell us anything; no one could tell us anything.
"We were all in a mad panic, as none of us had enough money to pay for extra accommodation if we had to stay longer. We went to the airport last night and waited there and then we were told about this flight."
The women, both nursery nurses from Chessington, Surrey, said they were relieved to be home as they believed there were many other XL passengers still left in Sharm El Sheikh. Ms Thompson, 25, added: "It's horrible thinking you're stranded in a foreign country."
The Great Airlift
The airlift operation is being supervised by the Civil Aviation Authority (CAA) but involves help from dozens of airlines and travel companies. XL Leisure Group went into administration in the early hours of Friday morning with debts of £143 million.
The CCA chartered seven flights from foreign destinations including Orlando, Florida; Dalaman, Turkey; and Malaga, Parma, and Alicante, Spain. Other passengers traveled home on scheduled flights.
The collapse of XL has left tens of thousands of all-inclusive holiday buyers stranded throughout Europe, the United States, the Caribbean and Africa. A further 200,000 planned holidays have been wrecked and 1,700 staff have lost their jobs.
There are growing fears the high price of fuel and the credit crunch will force dozens of other travel firms into liquidation. Some operators say the economic outlook is even worse than the aftermath of 9/11 in 2001.
Of the 85,000 stranded all-inclusive holiday makers, some 75,000 are protected by the industry's Air Travel Organisers' Licence (Atol) agreement and will be airlifted home free of charge.
However, another 10,000 will have to make their own arrangements – and at their own cost – because they are not covered under the rules of the agreement.
An Atol spokesman said many passengers were expected to be returning to the UK, both on specially chartered flights and on already scheduled flights that have spare seats on board.
The Homecoming
British all-inclusive holiday maker David Halligan landed at Manchester Airport this morning having spent £880 on new flights after he and his family were stranded in Florida. The 50-year-old engineer from Bradford spent £2,000 on a two-week XL villa holiday in the "sunshine state" for his family of four.
Mr Halligan found out about the firm's collapse from friends in the UK. "We were rung early morning by friends saying XL had gone under so we proceeded to get ourselves sorted out. We got on the internet. We were lucky to be in a villa with internet access."
He said he used contacts and took advantage of a friend's frequent flyer status to get cheaper-than-normal Virgin flights.
Their XL flight was from Orlando Sanford International Airport but they had to travel 34 miles to Orlando International Airport to pick up their Virgin Atlantic flight.
Virgin Atlantic has said XL passengers who find themselves stuck at airports in Florida and the Caribbean will be offered special one-way fares to fly home until the end of September.
Peter Long, the chief executive of Thomson and First Choice owner TUI Travel, said the two firms would also joining the effort to help stranded passengers.
Phil Wyatt, chief executive of XL Leisure Group, described arranging flights to accommodate those affected as "the most challenging airlift that anyone has undertaken".
In an emotional statement, Mr Wyatt said he was "devastated" at the company's collapse and apologised to his customers and employees.
Speaking at a press conference at the Hilton Hotel at Gatwick Airport, XL's chief executive said: "Ultimately I blame myself, I'm the CEO, I take legal responsibility for it."
But he added that the withdrawal of support from lenders had left them with no option than to call in administrators.
Mr Wyatt said: "We have made every effort to refinance the principal debt of the group but, despite significant interest, the group was unsuccessful.
More recently, record oil prices and a worsening economic environment has meant our economic requirements have increased and our efforts have been overwhelmed."
He expressed his "gratitude" to XL's 1,700 staff, who will now face an uncertain future.
The Prediction
The collapse of XL Leisure Group prompted a prediction by Willie Walsh, British Airways chief executive, that another 30 airlines would go out of business within the next four months.
Administrators now have an uphill battle to save the profitable part of the firm. Stuart Mackellar, a partner at Kroll appointed as joint administrator, said: "We are not thinking about liquidation at the moment. We are thinking about a rescue plan for the survival of parts of the business."
XL's administrators said most people who booked holidays with the troubled tour operator should be eligible for a refund.
Those all-inclusive holiday makers who paid by credit card or used a tour operator affiliated to the Atol scheme should get their money back.
Latest posts by Dan Winther
(see all)