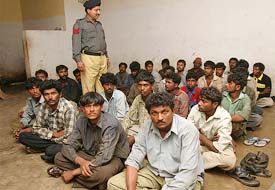 Disturbing news is coming from UAE where more than three thousand  Indian workers who were taken in for questioning on Friday are still at police detention in Dubai.
Talmiz Ahmed, Indian Ambassador to the UAE speaking to the media said a few workers in an inebriated condition attacked their contractors, Al Hamra Construction Company.
Previous reports suggested that it was RAK Ceramics which was allegedly attacked by the workers.
When the fight could not be managed, the owners called the police and the workers had torched two police vans during a heated argument that followed.
The UAE riot police have taken charge of the situation and arrested all 3147 workers who are still under detention in various prisons across the UAE.
"The workers are completely at fault and a few very drunk and violent ones have got the entire lot into trouble," said Talmiz Ahmed, as if he was present at the spot when incident occurred.
Once the workers who started the fight are identified, they will serve a prison sentence and be deported to India. while the rest will be set free he assured.
Ahmed also said the situation was well under control as he was aware of the whereabouts of the workers and the progress the police were making.
"The procedure is same as in India and there is no targeting of Indian workers or ill-treatment as reports suggest," he said.
The workers are being held on charges of indulging in arson by burning vehicles and destroying furniture. They primarily hail from Punjab, Rajasthan, Tamil Nadu and Kerala.
Latest posts by Dan Winther
(see all)