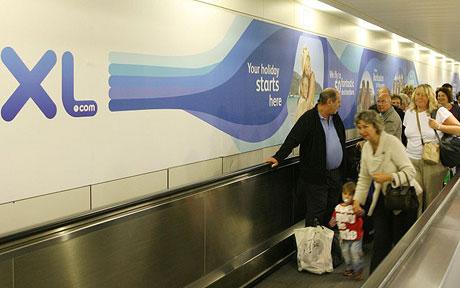 THE travel industry was plunged into more chaos yesterday with the collapse of another tour company and the future of a major airline plunged into doubt. The Civil Aviation Authority revealed that Turkey specialist K&S Travel – which also operates as Travel Turkey – had ceased trading, stranding about 150 customers in Bodrum. They will be repatriated by the CAA because the north London tour firm was covered by the ATOL protection scheme.
In Rome the Italian government was last night in crisis talks trying to find a way to save flagship airline Alitalia.
There are fears it will have to ground flights today because of a lack of fuel.
Meanwhile, the £20million operation to bring home nearly 100,000 victims of Friday's collapse of XL Leisure Group continued. At airports around the world, the CAA managed to organise 94 flights which will bring back 22,090 of the stranded tourists.It plans to bring home the rest of those booked through XL travel companies – who had ATOL cover – over the next fortnight as their holidays come to an end.
But about 10,000 tourists who booked direct with grounded XL Airways will have to pay the CAA hundreds of pounds for their flights home because they are not covered by ATOL. Worst effected areas are Greek Islands which are very famous amongst Britons as tourist destination.
Large number of British Tourists are reported to be stranded in Greek islands of Corfu, Crete, Santorini, Kos, Kefalonia, Rhodes.
Another 200,000 XL customers have lost holidays already booked, with about 20,000 of them having no cover.
The travel industry and airlines were also accused of profiteering from XL's demise by cashing in on tourists trying to save holidays booked in advance.
One XL Airways customer, who asked not to be named, said she had tried to find flights to Holidays to Kefalonia where she still has a hotel reservation – and within an hour air fares had doubled. Her dream Holidays to Greece became nightmare since than as everything went out of budget by latest developments.
The latest quote from another operator would see them forking out an extra £1,800 on top of the £3,413 already paid.
But Gavin Leach, 31, and his fiancee Shian Llwyarch, 29, who feared their £70,000 wedding at Disney World, Florida, was ruined by the XL collapse, were celebrating yesterday after salvaging their trip. Thomas Cook offered to honour the bookings. XL announced on Friday it had called in administrators, blaming high fuel prices and a worsening economy for its demise.
But accountancy firm KPMG claimed it had been blocked from investigating alleged misrepresentations by "certain directors" that could have led to "material errors" in company reports.
British Airways boss Willie Walsh has predicted another 30 airlines will go under in the next four months. And yesterday analyst Douglas McNeill, of merchant bank Blue Oar Securities, said the aviation industry was contracting at the same rate as after the 9/11 terror attacks.
He added: "Sadly there are likely to be more insolvencies plus a decade's worth of mergers in the next 12 months."
Latest posts by Dan Winther
(see all)