Living in US? Call India as low as 4 cent per minute with Airtel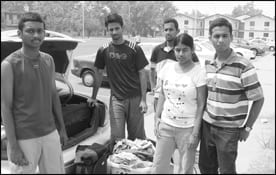 Comments are pouring in from all parts of the world to help Indian & other nationalities students stranded in American School of Aviation. Offers of help are coming from India West Newspaper, California Airways — A flight School in Hayward and many individuals who revealed many shocking things about the owner Manpreet 'Prince' Singh who believed to be an illegal in USA and applied for the Political Asylum in 1996 fearing porsecution in India. Bhakti & Bhavna Naik had some more things to be revealed so they came out with an interesting piece of information and wanted us to pulish it. So here it is……..
Mail from two Sisters Bhakti & Bhavana Naik
My name is Bhakti Naik. I and my sister Bhavana paid $17,00/- to the American School Of Aviation in March ,08. In just four days I asked for refund because I came to know that the school has only 6 – 8 planes, has no enough instructors and plus the students don't get to fly much. I asked for my refund in just 4 days after I got enrolled and since then till date I did not received my refund due. I thought of going to the small claims court, but there the announcer told me that Manpreet Singh already has 4 – 5 cases pending in the court. I talked to one student name Shailender Kapoor and he told me that he got the judgment but did not get the money back. I thought over it and then decided not to go to small claim court as Iwill also sail inthe same boat as the other 4 – 5 students. I have emails from ASA promising me to refund my money back, but still they have not done that. I came to know in March 08 that Prince is a CROOK , since then I and my family started writting to all the authorities for help, which includes the FAA, Sheriffs Department, the Merced Police, The Congress Men's office, Merced County, Atwater County, and the Assembly Member's office and so on. Since March 08, we have been struggling hard to fix this crook. At the end March 08, I and my sister talked to the Merced Sun Star's reporter and told him about all this. Even he started investigating. We have been trying hard and with the help of my familyand by the grace of God , now the whole world has come to know about ASA and Mr. Singh and his so called wife Reny Kozman. Since March , we used to visit the students of ASA and asked their help and tried to save them from this Crook but at that time no one supported us. But still we didn't get afraid or never back up and kept fighting against Singh and now we are happy that its worth all our efforts !
Thanks to FAA and the county for their help.
We are also thankful to Scott Jason of Merced Sun Star for helping us and for publishing the news regarding Singh and his school which alerted the students of ASA. Out of 100 there are still some students who are the stooges of Singh and I am afraid that they are future Singh and Reny.
But because of gods blessing now the whole world has come to know about these crooks. We have heard that Manpreet Singh is staying illegally in this Country, he had come to US in 1995 on a student visa and ended up staying here. We are still working hard and will keep working hard till we see Singh and Reny behind the Bars.
If anyone has any more information please do let us know. It is time we come together.
Thank you.
Latest posts by Dan Winther
(see all)